Complete Story

07/26/2022
2022 NW Conference Information!
Fellow Environmental Health Professionals:
On behalf of the Northwest OEHA Planning Committee, I cordially invite you to attend the NWOEHA 2022 Fall Conference. This year's conference will be held on October 13th & 14th at the Kalahari Resort and Conference Center in Sandusky, Ohio. The planning committee is dedicated to providing you with an excellent conference experience. The educational sessions are comprised of a wide variety of speakers and topics, giving the opportunity to earn up to 12.0 CEUs.
In the links above, you will find the following:
To attend conference, please fill out and submit the registration form and payment to the listed recipient. The first 50 people who register will receive special conference gifts!
If you plan on staying overnight, Kalahari Resort and Conference Center has provided us with a link for reserving rooms online. Remember to book as soon as possible.
Booking Website: https://book.passkey.com/e/50334192
Please take time to consider nominating a colleague for the Outstanding Sanitarian Award or the OEHA Membership Award. If this past year has showed or taught us anything, it is that we have outstanding sanitarians in the Northwest that deserve to be recognized! The winner would then be in the running for a State Award at the AEC in the spring of 2023!
If you want to get involved within our organization, we will be seeking nominations for a District Director-Elect. We hope you also consider joining our planning committee!
A raffle will be happening this year. If you have anything you would like to donate or contribute to the raffle, please contact Britt at bmenchhofer@vanwertcountyhealth.org.
If you have any questions or concerns, please feel free to contact me. It has been a while since we have interacted with everyone, so I look forward to this year's conference.
Sincerely,
Adam Schultz, REHS
Northwest OEHA District Director
937-642-2053

2022 NW OEHA Fall Conference
When: October 13th and 14th
Where: Kalahari Resort and Convention Center
7000 Kalahari Dr.
Sandusky, OH 44870
Book your room by September 12th, 2022!
Call:1-877-KALAHARI (1-877-525-2427) and ask for the NWOEHA Room Rate OR use the above link.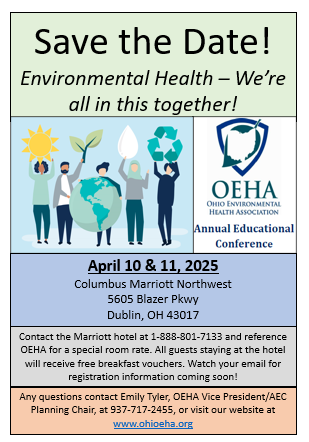 ---